By CDR. Robert S. Pandis "Panda" June 2005
Introduction
Note: I first published a version of this article in 2002 with very different conclusions. This article's conclusions super cede all previous articles. Live and learn.

Collecting Imperial aviation badges, from any country, requires careful research and some baseline reference material. There are plenty of excellent reference books on the market dealing with the award criteria and history of these badges, but few that focus on the design details of period badges.

What is meant by the term "period badge"? For this discussion, the criteria is based on the time of production from 1913, when the Prussian Army Pilot badge was first authorized, until the end of WWII, when legitimate production ended and most firms went out of business.

The real purpose of this article is to establish a baseline for the prominent badge manufacturers. In addition, collectors can then include their own criteria for evaluation. The study of silver marks will play heavily into this effort because, as we will see in most cases, the improper application of these marks or design flaws by a forger will help reveal them as fakes.

CDR. Robert Pandis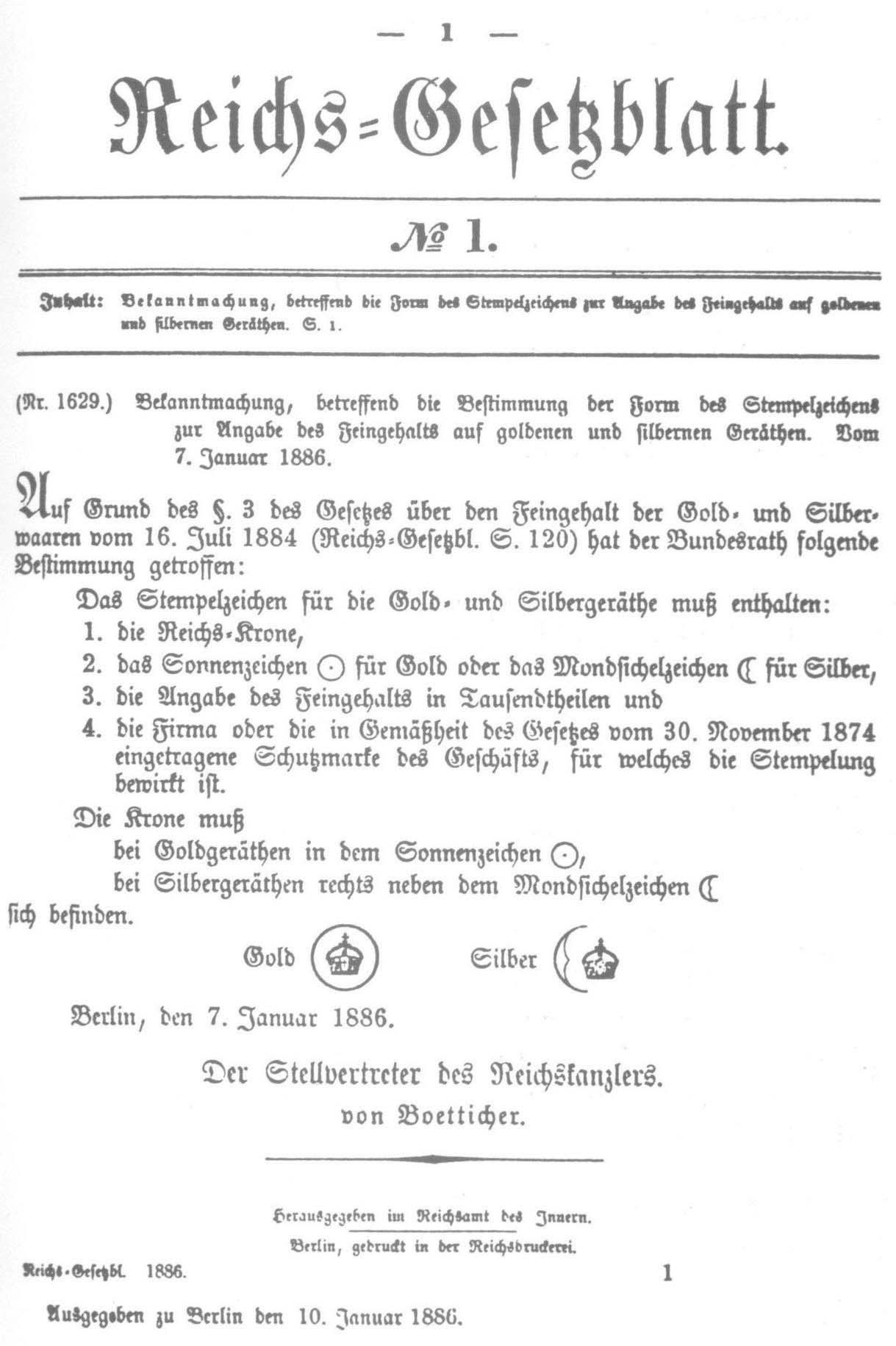 On January 7, 1886, a law was enacted, based on an Imperial Order dated July 16, 1884, by the Deputy of the Federal Chancellor von Boetticher. The law stated that hallmarks for gold and silver
articles were required to contain the following:

1. The Imperial Crown
2. The Sun sign for gold and the Crescent Moon sign for silver
3. The declaration of precious metal content in parts per thousand
4. All firms with registered trademarks had, by law, from November 1874 to show these signs (as stated above.)

Further, the Imperial Crown for gold must appear inside the sun and, for silver, appear to the right of the Crescent Moon. An exception in Paragraph 9 of the Order is made for jewelry and small wares; which were not required to be marked.

Given the 1886 Prussian Imperial Order, a question commonly asked by many collectors is "Why do some German Imperial era badges have only the Crescent/Sickle Moon, and 800 content marks; while others have the Crescent Moon, Imperial Crown, and 800 marks required by the Imperial Order.

To start, this law only applied to Prussian firms so you will not find these marks from firms located in other German States, most commonly those who manufactured Bavarian badges such as Carl Poellath, who will be covered in this article. A close look at silver content is warranted since one key inspection point when evaluating the authenticity of a badge is the silver content vs. its silver hallmarks. If a badge is marked as 800 parts silver or greater, and it is plated, this badge can immediately be ruled out as a forgery.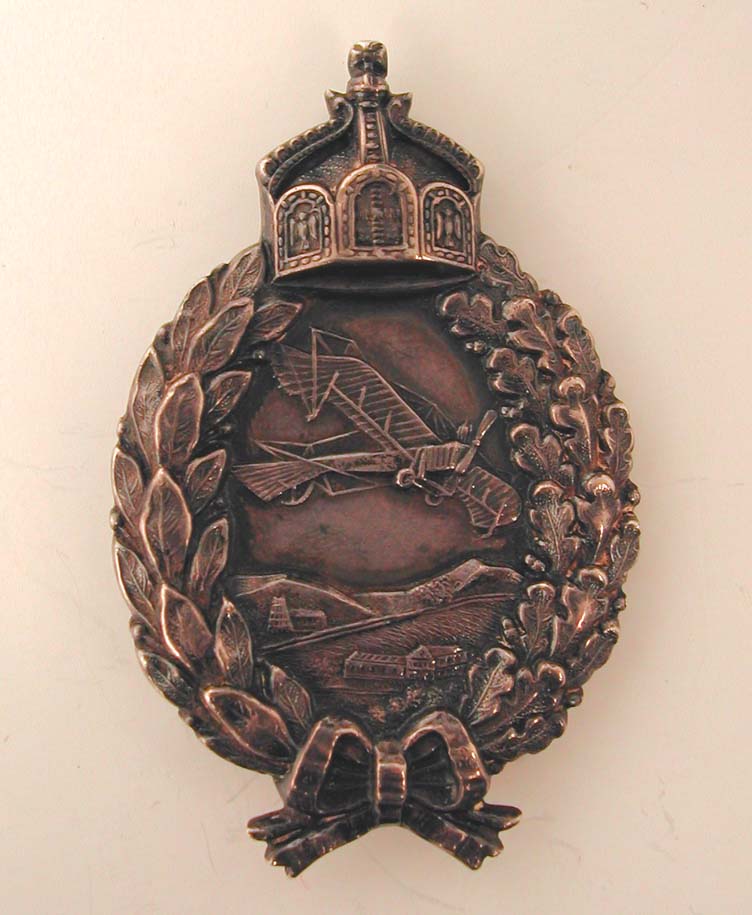 Period Prussian Pilot's Badge. Crown inserts are cutout. Length - 72 mm, Width - 46 mm, weight - 29.58g. Standard Juncker crescent moon and 800 silver marks on the reverse.
"Panda's Juncker Gouge:"
Badges should really contain the percentage of silver indicated by their hallmarks. If marked 800 then it should not be plated. A Juncker's pilot badge in 800 silver weights in the range of 29.0 - 30.5 g depending on crown insert cutouts, finishing, wear etc. 30.4 grams equals ~ 5 quarters and 1 dime in change for a field expedient check. The point here is that they are heavier than the plated fakes.

Details should conform to known period baseline examples. Size dimensions should be very close. I prefer cutout crown inserts but will consider the whole badge if they are not.

The Juncker cross is typically square and not stylized, but variations are accepted.

Reverse of crown where pin attaches should be deep and cupcake shaped. I do not accept shallow or poorly formed crown well areas.
Hinge should be Juncker T-pin style, however period repairs are common. Solder areas should be aged with patina. New solder is hard to patina, be cautious of chemically applied false patinas. Edges between soldered pieces should be skillfully done and without gaps etc.

In my research, no C.E.Juncker badge using both Imperial Crown and Crescent Moon hallmarks was found that met the baseline design criteria. But the real message here is that hallmarks can be changed very quickly, so the entire badge must be considered.

If a certain firm marks a badge, it should have design characteristics of that firm. With Juncker you should start with the proper crown well and then work from there.

Unmarked badges are accepted, but must still meet the design criteria of the firm that produced it.

Remember that die-stamped badge details do not vary. All period Juncker marked badges should have the accepted Juncker design features, and counter arguments are without merit.

Period Prussian Pilot Badges. Photo Credit Neal O'Conner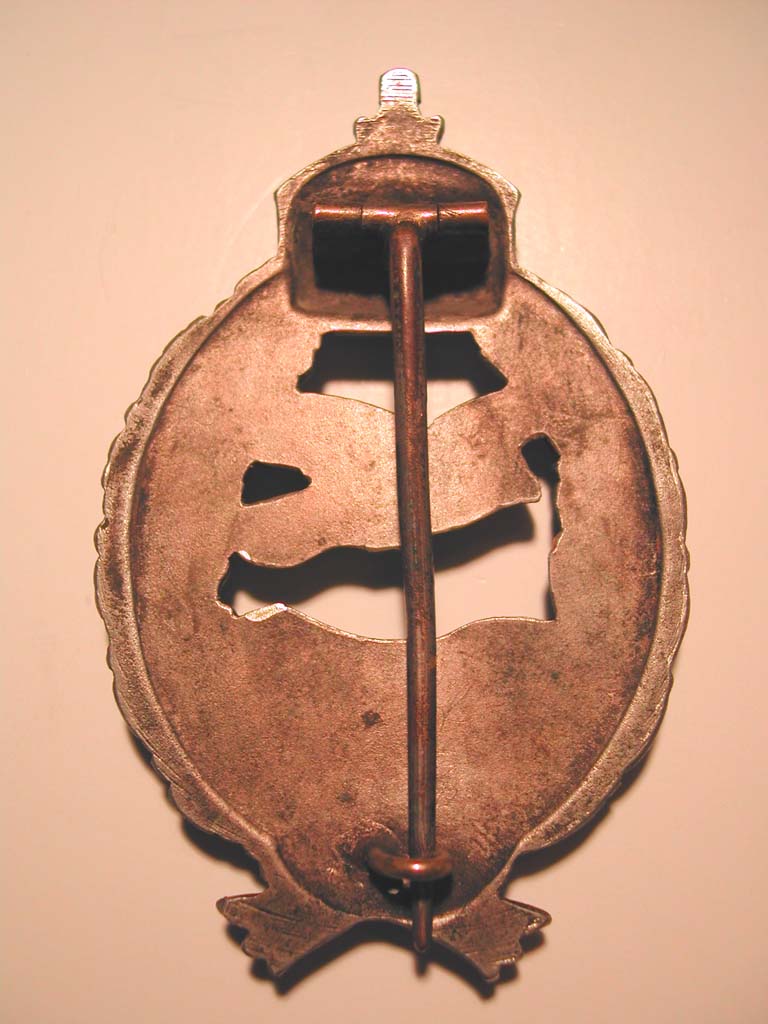 Unmarked period Commemorative Prussian Pilot Badge of the Juncker design. These original badges were made by Junckers and sold to distributors. Note the crown well. ~ Length - 72 mm, Width - 44 mm, Weight 24.58g.
Fake Juncker Badges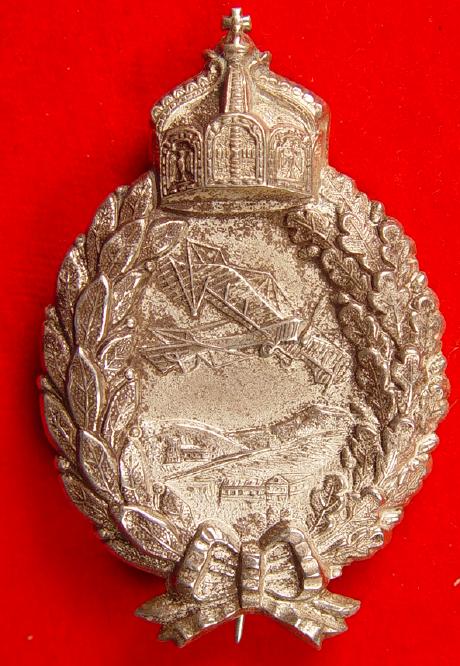 Crown inserts are not cutout. Cross is stylized vs. chunky Juncker style. Details are lacking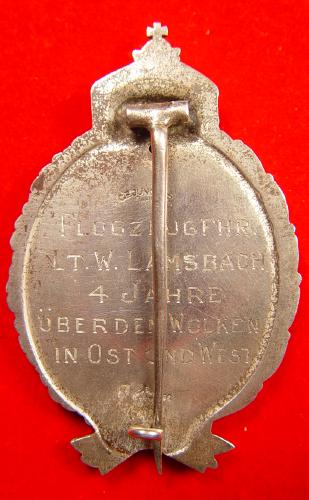 Reverse of crown well is shallow and lacks proper shape. Both the Crescent Moon and Imperial Crown silver marks together are not documented on period badges. This badge appears to have a silver-plating which is not consistent with its 800 silver markings. Fantasy engravings are common and intended to distract the collector from obvious problems. This badge measures from tip of cross to bottom of ribbon ~ 72 mm. Width is 44 mm at widest point across the middle. Weight is 29.38g. This badge, a common fake, does not meet the baseline criteria established for a period badge
Meybauer and Carl Poellath Badges
Things do not get any better with Carl Poellath Firm Bavarian badges. To start, collectors and historians still have not been able to resolve the very basic issue of the firm name of Carl Poellath or Karl Pollath. Both C. Poellath and Karl Pollath marks are found on original badges. Carl Poellath has been found on original cases.

The Poellath badge baseline design accepted by collectors for years, in my opinion, is now in question. The number of Bavarian Air Service Pilots during WWI was very small, so these badges are very rare, and the gross overabundance of these badges on the collectors' market points to only one painful conclusion.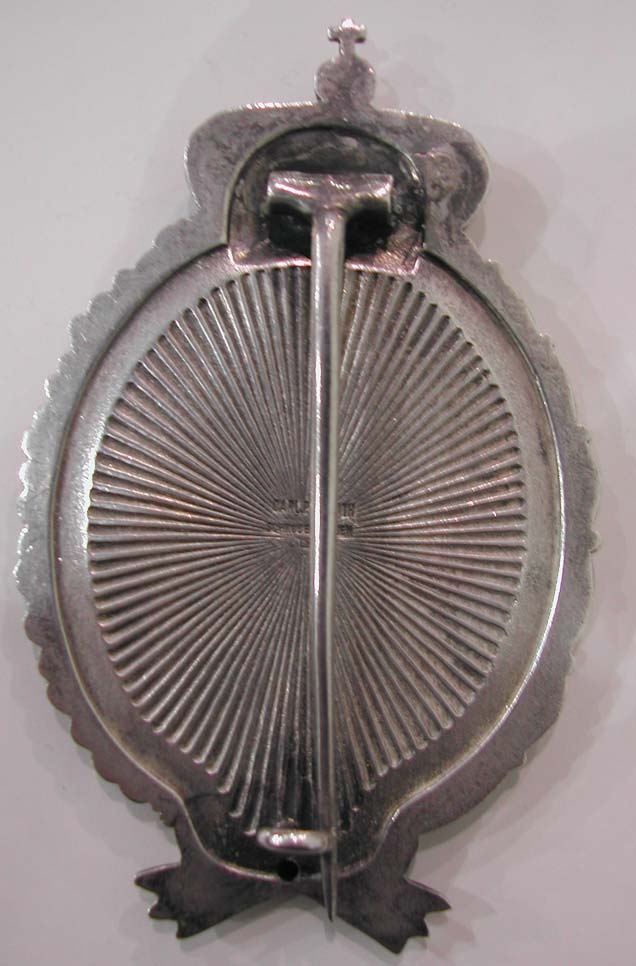 Bavarian pilots badge marked Carl Pollath, Schrobenhausen. Marked Silber. Note the half circle shaped crown well and T-pin style hinge with a thin pin which is identical to that found on fake Juncker and Meybauer badges. Length - 71 mm, Width - 45 mm. This half circle crown well design is in conflict with the crown well design found on many Bavarian badges in older German collections and museums. I caution collectors that it is highly likely that these half circle shaped crown well badges are in fact forgeries. I do not accept these badges.
The Bavarian pilot's badge design currently accepted by collectors. Marked Carl Poellath, Schrobenhausen. Also seen as Karl Pollath, according to the firm early badges were marked as C. Poellath, then Karl Pollath was used at some point during WWI and after WWI until production ended during WWII. Both marks were used indiscriminately by the firm. Bavarian badges are not seen with the Prussian Crown and Moon silver hallmarks. Note: spider web pattern to patina, which is common on late war badges of lesser silver quality (plated) and should be a red flag when seen on an 800 marked badge or higher. The stylized cutout cross is typical of Bavarian badges and crown inserts are sometimes cut out.
Period Poellath Gunner's badge. Marked Karl Pollath, Schrobenhausen, 800 on three separate lines. 73mm – length, 45mm – Width, 22.0g. Note the Poellath crown well style and pin.
Unmarked Bavarian Observer's badge made by Poellath, Schrobenhausen. Note the unique shape of the crown well. ~ Length - 73 mm, Width - 45 mm, Weight – 23.9g. Reverse patterns are found in plain and ray back style. Prongs on the reverse are found horizontal and vertical. Note the pin style.
Period Meybauer Observer badge. Meybauer badges are found with stylized crosses. There is only the Meybauer crest on this badge. Correct Meybauer pin style and hinge. Meybauer crown wells tend to be shallower than Junckers and an almost oval shape. Note Meybauer style ribbon. Enamel signals shield attached with two bent prongs through the reverse.
Photo: Stogieman
Details should conform to the period baseline examples presented. Cutout crown inserts are not as common on Meybauer or Poellath badges. The reverse of the crown or crown well area where the pin attaches is semi-oval for

For Meybauer badges, details should conform to the period baseline examples presented. Cutout crown inserts are not common on Meybauer or Poellath badges. The reverse of the crown or crown well area where the pin attaches is semi-oval for Meybauer, and not as deep as Juncker badges.

Pins should be the Meybauer coke bottle or flared style, hinges block style, ribbon should be Meybauer design. Only very early Meybauer badges of proper silver content have been seen with Crescent Moon silver marks. These badges are rare since many believe that Meybauer was primarily a post WWI manufacturer of badges. Most Meybauer badges are marked with the Meybauer crest only or with silver content numbers.
Neither Meybauer nor Poellath are found with both the Crescent Moon and Imperial Crown silver marks together. The Poellath firm badges are found with Silber or 800 marks.

The determination of period Carl Poellath badges, in my opinion, is now in dispute. After three years of studying these rare badges in old German collections, to include O Conner's, and German Museums I have not found a Poellath badge with a half circle crown. Only on one occasion did I find one with a collector and he immediately told me that is was a fake that arrived on the scene in the 1980's.

The fact that we find faked Juncker and Meybauer badges with the half circle shaped crown well, as well as the sheer quantity of this design on the market, sound an alarm in my book. The C. Poellath vs. Karl Pollath or Old German vs. New German, o with an umlaut = oe in the firm name spelling variation is yet to be completely resolved, but at present both markings are accepted. I do not like Carl Poellath on a badge, but a case is OK.

The Carl Poellath firm ended badge production during WWII, however the firm still exists today and is located on Carl Poellath Str. in Schrobenhasen. In interviews, they stated that the original tooling and die-sets are long gone, and that they are no longer making these badges. Local collectors have shown me Bavarian Pilot badge stampings from an original die that was located several years ago, but only the front was ever found.

Old stocks left over after WWII marked Karl Pollath were known to be found into the 1960s. As pictured in this article, Karl Pollath may be scratched out on these badges in an attempt to hide their "secret source." The location of the original die-sets is unknown.

Many feel that recent forgeries of these and other badges are originating from the USA, and not Germany. The quality of the Eastern European forgeries, I know them well from my work with Soviet badges, are excellent. Be a very hard judge; look for old silver qualities and authentic age in your analysis. Unmarked badges, should still meet inspection criteria and quality standards.

Fake Meybauer Badges
Meybauer marked pilot badge. The problem is that is has a Juncker style ribbon vs. a Meybauer ribbon. The two firms used very different ribbon styles. You will see it on all of their original badges. The badge is not 800 silver as marked; it is a cheaper silver plate.
Meybauer marked Prussian Army Commemorative Pilot badge that is commonly seen on the market. The thin pin style is wrong for Meybauer, and details are poor. These badges are not accepted as period Meybauer.
Conclusions

This article is filled with many personal observations and is by no means the final word on this subject.

In review, it is a fact that the Imperial Prussian Order supports the use of the Imperial Crown and Crescent Moon silver hallmarks. The failure to use the required silver content marks by any firm prior to November of 1918 remains an enigma yet to be answered. It is believed that it was an interpretation of paragraph 9 of the Order that allowed firms to omit these marks on jewelry-type items. Manufactures of larger silver items seemed to be less flexible:

The most credible source of documentation to date has come from a study of old attributed badges with a degree of provenance, and reliable museum pieces. Many museums collections have been compromised through theft and replacement with fakes over the years so caution is warranted with museum pieces. Any new evidence from a verifiable collection or source is welcomed. The combining of a doctored badge to an authentic flight log or period case or insertion into an original grouping does not establish a credible history, regardless of the story.

I caution again, hallmarks alone are simply not a single evaluation point for professionals in the antique silver collecting community, nor should it be in this case. Silver experts advise that many aspects should be evaluated in judging originality of a piece. If you have forgotten the feel and look of old silver, take a trip to your grand mother's house or local antique shop and handle some old sterling silver. Observe the weight, wear, hallmarks, patina, and warm almost blue glow of sterling silver that has been used and polished over the years.

I hope this will prompt more objective evidence to surface. I have attempted to remain neutral on the subject; I have no vested interest or hidden agenda. Many dealers and collectors disagree with the opinions or theories expressed in this article. I respect their opinion and welcome any documentation that supports alternative positions.

Good Hunting!

Robert Pandis

My thanks to: Peter Groch, Don Chalif, Rick Versailles - "Stogieman," Bob Gill, Wolfe - Hardin, Gordon Williamson, David Beasley, Connie McNally - Silver Magazine, Robert Bailey - NYU, Peter Merta Klaus - German History Museum, AERONAUTICUM, German Naval Airship and Aviation Museum, Ron Wolin, Matthias Sladek, DEGUSSA Experts, Stephen Previtera, Richard Mundhenk, LTC. Robert S. Pandis USAF (ret.), Mark Hodge, Perry Young,William Baugher, and many unnamed others for their help in this article. Special thanks to the many works on Imperial German Aviation Awards by Neal O' Conner covering the period that were used as reference in this article.
Contributors do not necessarily agree with my conclusions.

© A. Schulze Ising, IX/05